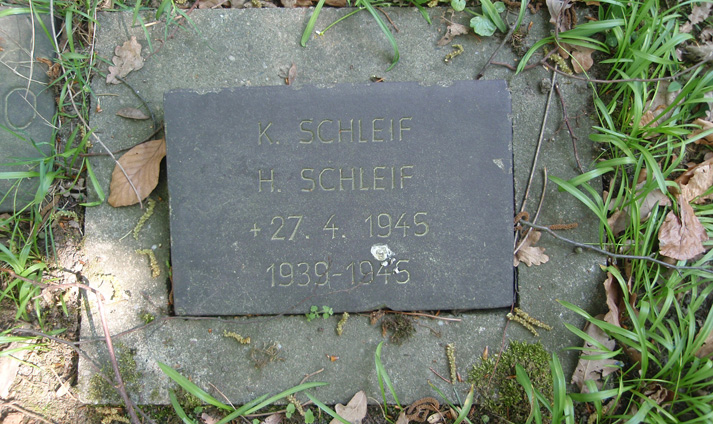 Hans Schleif
Hans Schleif, Architect and Archaeologist, renowned scientist, father and member of the SS. His grandson, Matthias Neukirch, actor at Deutsches Theater in Berlin, initiates a research about his grandfather.
"Now it's bound to work out – in really good times virtue always prevails!" Those optimistic words belonged to Hans Schleif. He was an architect and an archaeologist, a renowned scholar, a professor of classical archaeology, a family man – and a high-ranking member of the SS, Hitler's much-feared paramilitary organization. Schleif's grandson Matthias Neukirch, an actor at the Deutsches Theater, began tracing his grandfather's paradoxical history. He pored through old documents, conducted research in archives and asked family members for their recollections. The actor's search led him right to the present and back to himself.
Hans Schleif
by Matthias Neukirch and Julian Klein
Directed by Julian Klein
Collaboration Stephanie Quitterer, Assistance Brit Bartkowiak
Premiere in October 2011 at Deutsches Theater Berlin.
Since 2015 in the repertoire of Schauspielhaus Zürich.
nominated for the Friedrich Luft Award 2011
Over 100 performances until 2019
Invited a.o. to Amsterdam, Basel, Hannover, Oldenburg, Trier, Lüneburg, Braunschweig, Böhlen, Halle, Göttingen, Edinburgh, Cardiff, Poznan, Linz, Paris, London, Prag, Munich, Bern, Aix en Provence, to Topographie of Terror Berlin, by Kulturamt Steglitz into the former SS-Wirtschaftsverwaltungshauptamt, and to Venice Biennale
Premiere of an online performance version at Zuhauspielhaus Zürich (Schauspielhaus Zürich at home) in May 2020
For current performance dates see the Calendar.
more information and related publications (in German)
REVIEWS
The much acclaimed play "Hans Schleif – eine Spurensuche" by distinguished director Julian Klein and actor Matthias Neukirch is currently part of the programme of the Schauspielhaus Zürich. It has received rave reviews from critics and audiences alike, and continues to be the subject of intriguing debates in the social and public media, including leading public broadcasters.
(eventbrite.co.uk, Nov 2017)
Inheritances
As Mr. Gauck implied on September 1st 2014 at ceremonies recalling the 75th anniversary of the invasion of Poland, eyewitnesses of WWII become fewer with each passing day. What remains aside from vast evidence? Among other things, the children, grandchildren and great-grandchildren of perpetrators and victims who are often left behind with unanswered questions. Which generation takes on the task of revealing truth depends on countless factors.
In Berlin an actor at the Deutsches Theater provides an example of what type of efforts continue to be made with his performance entitled "Hans Schleif". Matthias Neukirch began intense research when he found himself having to play the role of an SS officer in a theater in Kassel several years ago. As he uncovered hard facts about his grandfather, a high ranking SS officer, various coincidences occurred in his personal life which gave him additional food for thought. With the help of director Julian Klein he concentrated on the facts and the two obtain documents on an ongoing basis with which they continually attempt to reconstruct the path Hans Schleif tread until he took his and the lives of his second wife and their twin children in Berlin in 1945.
With enormous skill, the actor recites documentary judgments regarding his grandfather at various intervals during the course of the evening. In addition to providing insight into such official records in this manner, he shares intimate content found in letters between Schleif and other members of his own family. Before this can lead to sympathy for his grandfather, Neukirch culminates with research findings concerning the final years in which Schleif no longer pursues initial career goals but rather dedicates himself to architectural planning for the 'Endsieg'.
Neukirch cannot possibly relay all of the information contained in the stacks of documentation he and Klein have accumulated within these few hours of theatre. It is so impressive to experience the selection and an ability to convey essential information, that the audience welcomes a discussion following the performance and actively participates with inquiries and observations that are equally fascinating. No surprise when half of the audience admits to having ancestors who could not be considered innocent.
Genealogists and historians continue to uncover deeds in dark times. Descendants of Neukirch won't be left with the task in regard to Schleif. No special effects were necessary: a few tables and chairs, binders with copies of authentic documents, a photo, a candle and the imagination of the audience were sufficient. Though it wouldn't be easy, it would certainly be valuable to translate the work into English as far as possible and have it performed internationally more often and sooner than later.
In an act of self-sacrifice, Neukirch offers the audience an inside view of his personal struggle to come to terms with the perpetrations of an ancestor who as a grandfather would normally have served as a role model. Multi-level loss permeates the tone of the evening. In his reconstruction of an elusive personality Neukirch simultaneously deconstructs any emerging empathy for the subject. Puzzle pieces amid broken glass.

Joanne Leitner