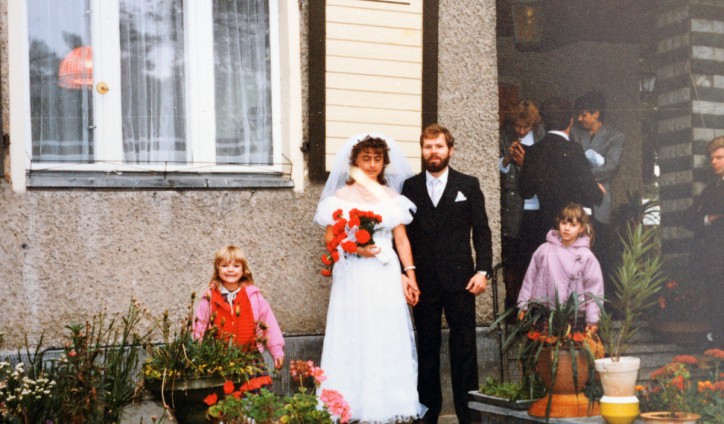 The Balloon
The Balloon
a German C(h)ase
Audio-Parcours about an attempt to escape from GDR in 1989
by Julian Klein, Caroline Labusch, Ulf Pankoke and Alexander Schmid
Premiere: October 1st, 2015
March 8 1989: a parachute like object made of transparent material is found in a tree in Berlin-Zehlendorf. Some hours later, a neighbour discovers a corpse in his garden. It is Winfried Freudenberg, citizen of GDR. Cause of death: fall from high altitude.
25 years after the reunion of Germany this live – audiodrama transfers into the past of the divided Berlin. In a private space the hosts invite into the year 1989. Within a collage of sounds, voices, objects and images, the mosaic of the tragic story of Winfried Freudenberg and his wife composes and leaves room for gaps and contradictions.
with Ulf Pankoke, Katharina Haverich, Kristina Lösche-Löwensen, the Host  and the voices of Sabine Freudenberg, Fabian Gerhardt, Christian Grashof, Thorsten Merten, Kathleen Morgeneyer, Matthias Neukirch, Hartmut Schories, Arndt Schwering-Sohnrey, Rainer Sellien, Bernd Stempel, Kirstin Warnke und Claudia Wiedemer
Direction Julian Klein – Idea Alexander Schmid – Concept Julian Klein, Caroline Labusch, Ulf Pankoke – Text Caroline Labusch – Music Ulf Pankoke, Julian Klein – Scenography Caroline Labusch, Ulf Pankoke, Kirsten Kofahl, Kaspar Gessner – Technical Direction Claes Schwennen – Scientific Advice Dr. Maria Nooke / Stiftung Berliner Mauer – Assistence Male Günther, Marie Golüke – Production ehrliche arbeit – freies Kulturbüro
A production by !KF – Institute for Artistic Research Berlin in collaboration with Berlin Wall Foundation.  Founded by Regierender Bürgermeister of Berlin / Senatskanzlei – Kulturelle Angelegenheiten. Supported by  Radialsystem V.
PUBLICATION
Ich hatte gehofft, wir können fliegen (I hoped we can fly)
by Caroline Labusch. Random House: Penguin 2019