Wednesday, December 9th 2015 at 8 pm, Einer&Bert Berlin
per.SPICE!
Every two months two guests will present their artistic research and discuss their work together with the audience and the moderator Julian Klein.
Eva Plischke and Frank Oberhäußer, members of the collective Turbo Pascal, will discuss the process of conception and rehearsing in interactive and performative Formats.
Nathalie Fari will present her concept of Body Mapping which is a method from her to devolop a performative research project.
VENUE:
Einar & Bert
Theater Bookshop and Café
Winsstraße 72
D – 10405 Berlin-Prenzlauer Berg
Germany
Tram 02 – Metzer Straße (250 m)
Tram 04 – Am Friedrichshain (250 m)
U Senefelder Platz (1 km)
S+U Alexanderplatz (1,3 km)
Opening Hours
Mon – Fri 9.30 am – 7.30 pm
Sat 10 am – 6 pm
Sun 10 am – 4 pm
Tel: (030) 4435285-11
Fax: (030) 4435285-44
www.einar-und-bert.de
Pictures from the productions:
Ich bin nicht wirklich in Gefahr (c) Gerhad Ludwig
Völkerwanderung (c) Kathrin Feldhaus, Rainer Muranyi
Algorithmen (c) Gernot Woeltjen
Mitarbeiter*innen-Projekt (c) Kathrin Feldhaus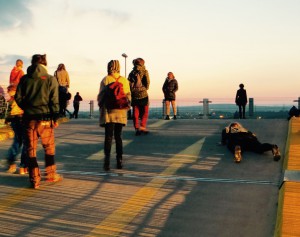 Body Mapping – Workshop from Nathalie Fari at the Diskurs Festival in Giessen.