We will continue our Forum Artistic Research "per.SPICE!" in the year 2015.
As of February 9th 2015 at 8 pm, every two months two guests will present their artistic research and discuss their work together with the audience and the moderator Julian Klein.
Many theatre practicioners who work with research and every day experts rely on interviews; but is there a specific artistic method in conducting such interviews? Tobias Rausch asks this questions and has been working on research-based projects emerging from interviews for more than ten years (see image above).
Eva Meyer-Keller will present a selection from her performance works and allows an insight into her working process as well as her research: "knowledge has no hierachy" (Susan Rethorst). Together, we would like to discuss in what ways her working process can be considered as research.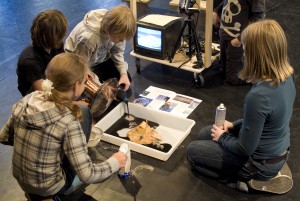 Eva Meyer-Keller: Rehearsal process to 'Bauen nach Katastrophen'
(a collaboration with Sybille Müller and 7 children), 2009.
Foto: Lucas Fester
This Forum shall form a colloquium for the professional and interdisciplinary exchange for all forms of institutional and freelanced artistic research. Proposals and applications for one of the events can be sent to the address perspice@artistic-research.de.
VENUE:
Einar & Bert
Theater Bookshop and Café
Winsstraße 72
D – 10405 Berlin-Prenzlauer Berg
Germany
Tram 02 – Metzer Straße (250 m)
Tram 04 – Am Friedrichshain (250 m)
U Senefelder Platz (1 km)
S+U Alexanderplatz (1,3 km)
Opening Hours
Mon – Fri 9.30 am – 7.30 pm
Sat 10 am – 6 pm
Sun 10 am – 4 pm
Tel: (030) 4435285-11
Fax: (030) 4435285-44
www.einar-und-bert.de